Intermediate Guide to Whittling: 15 Secrets Wood Carvers Should Know to Get Better (Paperback)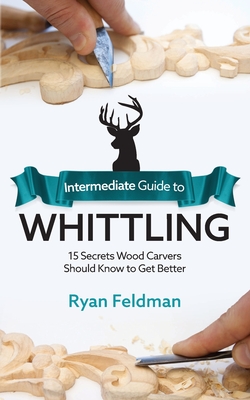 $19.99

usually available in 3-5 business days
Description
---
Take Your Wood Carving Skills To The Next Level: Discover The Carving Techniques And Tips That Professional Carvers Don't Like To Share
Do you enjoy whittling, but feel like you're ready to try out some more advanced wood carving techniques?
Are you stumped by the huge variety of carving tools, not being able to tell the difference between a gouge and a chisel?
Are you ready to expand your toolbox with advanced wood carving equipment, but don't know where to start?
Whittling, and wood carving in general, is an extremely beneficial craft hobby.
It lowers stress and blood pressure, supports mindfulness, trains concentration, and reconnects you with nature, leaving you calm and relaxed.
But wood carving can also be a useful and valuable hobby.
Once you get the hang of it, you can create beautiful pieces to decorate your home with, carve unique gifts for your family and friends, and even furnish your house with stylish wooden furniture.
To top it all off, wood carving is an inexpensive hobby, and many intricate pieces can be crafted on a budget with just a few basic tools.
But the simplicity of whittling and other carving techniques can be deceiving.
This is a complex craft, especially if you're looking to upgrade your skills and explore some more elaborate techniques and equipment.
In
Intermediate Guide to Whittling
, you will discover:
A 'how-to' on 4 wood carving techniques -- incised carving, chip carving, intaglio, and relief carving, suitable for both beginners and advanced carvers
Dozens of projects that cover all the techniques, including advanced whittling patterns to help you progress and upgrade your skills
Advanced carving tools you'll need in order to explore different carving techniques, from detail knives to V-tools and veiners
A guide on carving accessories that professionals use to carve their masterpieces
Why getting familiar with the anatomy of wood will make you a better carver, and how to avoid the "splitting the grain" mistake all carvers dread
Which sharpening stones to use to keep your tools in top shape, including the pros and cons of each one
A full list of surface and penetrating finishes: you'll find out their properties, how to use them, and when NOT to use them to avoid classic beginner's mistakes
And much more
Even though we're mostly talking about intermediate or advanced wood carving here, beginners will have no trouble keeping up.
That even goes for someone who has never held a pocket knife in their hands -- soon you'll be able to create masterful art pieces with just a little practice by your side.
If you're looking to upgrade your wood carving skills or are searching for a fun, relaxing hobby, then scroll up and add this book to your cart