Twelve Bright Trumpets (Paperback)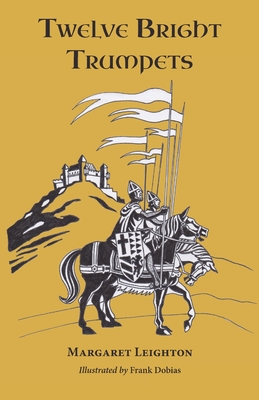 $14.95

usually available in 3-7 days
Description
---
Twelve short stories of the important events in Medieval history told through the eyes of young people who lived in those times:
The End and the Beginning (About 400 A.D.)
The boy, Gains, is awakened in the middle of the night when his village in Roman Britain is attacked by Northern pirates.
A Blackbird Sings (About 800 A.D)
The monastery where the peasant boy Remy is going to school receives a visit from the Emperor Charlemagne.
The People Remembered (About 870 A.D.)
Just after the Danish invasion of Britain has been stopped by King Alfred, Cedric, a young Saxon, meets the brave king.
Hail, Normansland (About 900 A.D.)
Astrid, in Norway, awaits the return of her father who, with other Vikings, has been attacking the northern coast of France.
The Conqueror (About 1075 A.D.)
Edith, a Saxon girl, and Alix, a Norman girl, become friends when they are both attending a convent school in Normandy in the time of William the Conqueror.
The Great Journey (1095-1099 A.D.)
Denis, a young squire, accompanies his master on the First Crusade and is rewarded for his part in the taking of Jerusalem.
Twelve Bright Trumpets (About 1150 A.D.)
At the death of her mother and father, Rohais is left alone to protect the castle until her brother returns from the Crusades.
Echo Over Runnymede (1215 A.D.)
Geoffrey, page to an earl who objects to King John's tyranny, is present at the signing of the Magna Carta.
Town Air is Free Air (13th Century A.D.)
Jacques, a young serf, runs away from the feudal manorvillage to escape the terrible anger of the baron's game warden.
Marco and the Marble Hand (14th Century A.D.)
Caught by the reawakened enthusiasm for art in Florence, Marco, an Italian peasant boy, finds something to show the artist, Master Antonio.
A Noble Magic (14th Century A.D.)
Karl, a copyist's apprentice who is tired of copying books by hand, finds at the establishment of Master Gutenberg a noble magic.
Queen of the Sea (About 1500 A.D)
Camilla, at home in Venice while her brother is on a voyage with Vasco da Gama, almost misses the great water festival.