I'm Dead Now What?, Very Important Information about My Belongings, Business Affairs, and Wishes, Peace of Mind Planner (Paperback)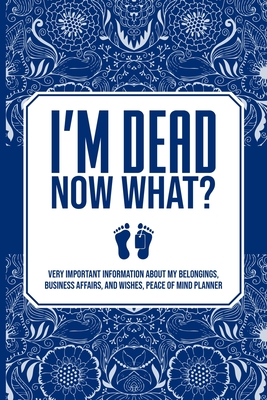 $8.99

usually available in 3-5 business days
Description
---
As the author of "I'm Dead, Now What?" Planner, I'm proud to introduce you to a book that goes beyond its quirky cover design. Within its pages, you'll find a practical and valuable tool to gather all the important details about your life, so that your loved ones can manage your affairs with ease. Whether it's your contacts, legal matters, health information, financial details, or instructions for your end-of-life wishes, this planner is a comprehensive guide to help you organize your life and secure a peace of mind.
I understand that thinking about our own mortality can be a daunting task,
but trust me, the "I'm Dead, Now What?" Planner makes it easier. This
book is a gift to your family and personal representatives, one that will save
them time and stress during a difficult time. So, don't wait any longer, start
organizing your life today and give the gift of peace of mind to your loved
ones.
- My Personal Information
- My Medical Information
- Key Contact Information
- At the Time of My Passing
- My Dependents
- Important Documents
- Financial Information
- Commercial/Business Information
- What Beneficiaries Can Expect
- Personal Property
- Insurance
- My Pets
- What to Pay, Close, and Cancel
- Email and Social Media
- Miscellaneous Information
- My Personal Wishes
- Last Words
- Note: This planner is not a legal document and does not replace a valid will.
- Contents are identical to those of Peter Pauper Press's Peace of Mind Planner