A Ragdoll Kitten Care Guide: Bringing Your Ragdoll Kitten Home (Paperback)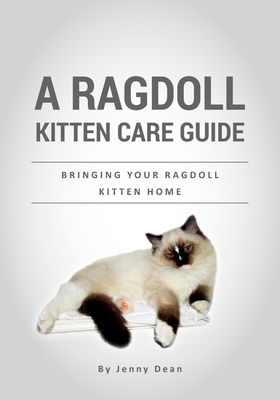 $17.53

usually available in 3-7 days
(This is a special order book which cannot be returned.)
Description
---
You're getting a Ragdoll kitten (how exciting ) and you have questions about caring for it, once she or he is home.
A Ragdoll Kitten Care Guide: Bringing Your Ragdoll Kitten Home is a comprehensive guide that covers every aspect of kitten care a new owner needs to know written in a warm, friendly tone.
What if you knew what to expect and prepare for before you even picked your Ragdoll kitten up? Wouldn't it be nice to know how to kitten proof your home? Or what about what to buy in anticipation for your little one's arrival?
Looking for recommended products for a new Ragdoll kitten? Looking for suggestions on everything from water fountains to scratching posts, pet carriers, cat litter, litter boxes, cat bowls, etc....products that a Ragdoll cat owner just can't live without? How about vet visits and cat health insurance? There's a lot to consider and prepare for. A Ragdoll Kitten Care Guide includes links to videos and products, and the information presented is from real life experiences, not repeated from other cat books. There are many quick, simple tips that can be used with Ragdoll kittens. The author also has a corresponding website Floppycats.com, where you can easily connect with other Ragdoll cat owners.
Here's a peek inside of A Ragdoll Kitten Care Guide:
Chapter 1: Kitten-Proofing and Preparing Your Home and "Safe" Room
Chapter 2: First Days with Your Kitten and Things to Watch Out For
Chapter 3: Ragdoll Kitten's Diet, Food and Water Bowls, Treats
Chapter 4: Recommended Scratchers, Toys and Beds
Chapter 5: Carriers and Your First Vet Visits
Chapter 6: Nail Trimming and Grooming
Chapter 7: Litter Box
Chapter 8: Dental Care - Teeth Brushing Conclusion: Maintaining a Healthy Ragdoll Cat
BONUS: How to Introduce Your New Ragdoll Kitten to a Resident Cat BONUS: Bringing Your Ragdoll Kitten Home Checklist
BONUS: Questions to ask Ragdoll Breeders
Carefully researched, this guide is a fast and enjoyable read with lots of photos and recommendations for the Ragdoll Kitten owner. Everything is broken down into easy chapters, and Jenny writes as if she is there with you to take you there through the various steps.