The Campaigns of the British Army at Washington and New Orleans 1814-1815 (Paperback)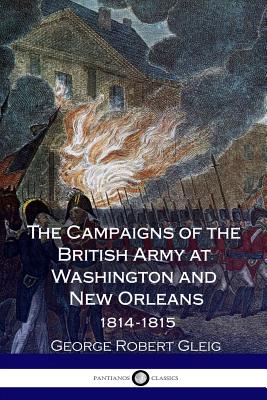 $9.98
usually available in 5-10 days
(This is a special order book which cannot be returned.)
Description
---
George Gleig - junior officer in the British Expeditionary Force - offers a history of the British campaigns during the War of 1812. He presents a flowing narrative of the major battles and skirmishes of the conflict, adapted from his journal.
Reeling from defeats in early 1814, the British Army planned a vengeful assault upon the capital city of the United States. One of the most destructive elements of the War of 1812, the burning of the City of Washington saw much of the city put to the torch. In addition, the frigate USS New York and sloop USS Argus were incinerated by the rampant force.
Yet fortune favored the Americans; a great storm swiftly swept in and extinguished the blaze. Gleig describes gales so strong that men were swept from horseback, while the rain thoroughly pelted and soaked the entire area, extinguishing the flames. Successfully withdrawing, the British nevertheless saw their damage curtailed by the forces of nature.
As an officer present at such scenes, Gleig offers valuable eyewitness accounts. The failure of the British to capture the strategic port of New Orleans was another important event; he describes the soldiers' shock at finding a ragtag group of militia, pirates and locals grouping together to mount a shockingly effective defense of the city. Versed in the lay of the land, this loose-knit group of fighters proved effective against the formally trained British troops.
Although colored by Gleig's nationality and allegiance to the British cause, his histories remains a useful and detailed source on the later battles in the War of 1812. This book was published in 1822, a mere seven years after the conclusion of hostilities, when Gleig was still a serving army officer. Later in life he turned to the priesthood, becoming a chaplain and later Chaplain-General to the British armed forces.