Invisible Girl: A Novel (Paperback)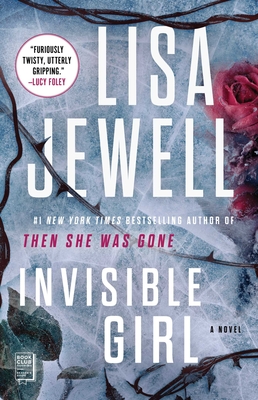 November 2020 Indie Next List
---
"Lisa Jewell has become one of my absolute favorite thriller authors. She's an automatic must-read for me and should be for everyone who loves dark, twisty thrillers. This latest is no exception. In fact, she just keeps getting better and better! If you haven't read her yet, start with Invisible Girl — I guarantee you won't be able to put it down!"
— Becky LeJeune, BookBar, Denver, CO
Description
---
AN INSTANT NEW YORK TIMES BESTSELLER

"I absolutely loved Invisible Girl—Lisa Jewell has a way of combining furiously twisty, utterly gripping plots with wonderfully rich characterization—she has such compassion for her characters, and we feel we know them utterly… A triumph!" —Lucy Foley, New York Times bestselling author

The #1 New York Times bestselling author of Then She Was Gone returns with an intricate thriller about a young woman's disappearance and a group of strangers whose lives intersect in its wake.

Young Saffyre Maddox spent three years under the care of renowned child psychologist Roan Fours. When Dr. Fours decides their sessions should end, Saffyre feels abandoned. She begins looking for ways to connect with him, from waiting outside his office to walking through his neighborhood late at night. She soon learns more than she ever wanted to about Roan and his deceptively perfect family life. On a chilly Valentine's night, Saffyre will disappear, taking any secrets she has learned with her.

Owen Pick's life is falling apart. In his thirties and living in his aunt's spare bedroom, he has just been suspended from his job as a teacher after accusations of sexual misconduct—accusations he strongly denies. Searching for professional advice online, he is inadvertently sucked into the dark world of incel forums, where he meets a charismatic and mysterious figure.

Owen lives across the street from the Fours family. The Fours have a bad feeling about their neighbor; Owen is a bit creepy and suspect and their teenaged daughter swears he followed her home from the train station one night. Could Owen be responsible? What happened to the beautiful missing Saffyre, and does her disappearance truly connect them all?

Evocative, vivid, and unputdownable, Lisa Jewell's latest thriller is another "haunting, atmospheric, stay-up-way-too-late read" (Megan Miranda, New York Times bestselling author).
About the Author
---
Lisa Jewell is the #1 New York Times bestselling author of nineteen novels, including The Family Upstairs and Then She Was Gone, as well as Invisible Girl and Watching You. Her novels have sold over 10 million copies internationally, and her work has also been translated into twenty-nine languages. Connect with her on Twitter @LisaJewellUK, on Instagram @LisaJewellUK, and on Facebook @LisaJewellOfficial.
Praise For…
---
"I absolutely loved Invisible Girl—Lisa Jewell has a way of combining furiously twisty, utterly gripping plots with wonderfully rich characterisation—she has such compassion for her characters and we feel we know them utterly. To anyone who claims crime fiction is plot at the expense of character, I prescribe Lisa Jewell. A triumph!"
— LUCY FOLEY, New York Times bestselling author of The Guest List

"This weekend I finished Lisa Jewell's gripping Invisible Girl and it was such a joy not to be able to put a book down. Her best yet."
— JOJO MOYES, New York Times bestselling author of The Giver of Stars

"Compelling and surprisingly moving—Lisa Jewell never lets you down."
— CLARE MACKINTOSH, New York Times bestselling author of I Let You Go

"Lisa Jewell's latest edge-of-your-seat thriller stands out... [she] highlights how our views of the world and of others can often render us blind to what is truly going on around us... brilliant... deft ... surprising."
— USA Today

"Full of twists you won't see coming."
— PopSugar

"I'm obsessed."
— Crime by the Book

"A dark, carefully plotted domestic thriller filled with complex, lonely, and (mostly!) sympathetic characters. It takes on toxic masculinity and incel culture in a way that adds to but never overwhelms the central mystery of the novel, and ends with a satisfying conclusion and then one final, disturbing twist."
— Buzzfeed

"In classic Jewell fashion, it's unputdownable."
— E! Online

"I loved it. Every damn word."
— AJ FINN, New York Times bestselling author of The Woman in the Window

"Gripping, haunting, chilling."
— Woman's World Magazine

"I am always reminded of Ruth Rendell at her very best when I read Lisa Jewell. Not only is her plotting masterful, Lisa has the rare ability to make you care—passionately—about all her characters, whether they are important or minor, instantly appealing or apparently monstrous. Invisible Girl is quite brilliant in every way."
— JANE CASEY, author of The Burning

"Jewell is a master at weaving a tale that's unpredictable, deeply creepy, and that pushes the boundaries of what's taboo."
— Book of the Month Club