White House by the Sea: A Century of the Kennedys at Hyannis Port (Hardcover)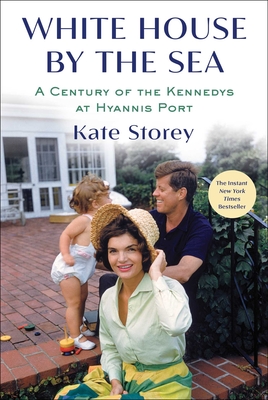 $30.00

usually available in 3-5 business days
Description
---
"Impeccably researched…captivating!" —Elin Hilderbrand * "A well-paced history." —The New York Times Book Review * "Fascinating…with new details and well-sourced reporting." —Associated Press

NEW YORK TIMES BESTSELLER! The intimate, multigenerational story of the Kennedy family as seen through their Hyannis Port compound on Cape Cod—the iconic place where they've celebrated, mourned, and bonded—based on more than a hundred in-depth interviews by a Rolling Stone editor and journalist Kate Storey.

Hyannis Port, Massachusetts, is synonymous with the Kennedy family. It is where, for a hundred years, America's most storied political family has come to celebrate, bond, play, and grieve. It is also the setting of so many events we remember: JFK giving his presidential acceptance speech, Jackie speaking with a Life magazine reporter just days after her husband's assassination, Senator Edward Kennedy seeking refuge after the Chappaquiddick crash, Maria Shriver and Arnold Schwarzenegger tying the knot—and even Conor Kennedy courting pop star Taylor Swift. Anyone who has lived in, worked at, or visited the Kennedy compound in Hyannis Port has had a front-row view to history. Now, with extraordinary access to the Kennedy family—and featuring more than fifty rarely-seen images—journalist Kate Storey gives us a remarkably intimate and poignant look at the rhythms of an American dynasty.

Drawing from a wealth of conversations with family members, friends, neighbors, household and security staff, Storey delivers a rich and textured account of the Kennedys' lives in their summer refuge. From the 1920s, when Rose and Joseph P. Kennedy rented then bought a home known as The Malcolm Cottage, to today, when many Kennedys have purchased their own homes surrounding what's now called The Big House, this book delivers many surprising revelations across the decades, including what matriarch Rose considered the family's greatest tragedy, the rivalrous relationship between brothers Jack and Joe, details about Jackie's life at the compound, and previously unknown glimpses into JFK Jr. and Carolyn Bessette's loving and ill-fated relationship.

"Engaging and…intimate anecdotes that often stand in contrast to predominant, media-created perceptions...Readers will come away with new insights and due appreciation for this uniquely American dynasty" (Booklist, starred review).
About the Author
---
Kate Storey is the senior features editor at Rolling Stone. She was previously a staff writer at Esquire, where she covered culture and politics, and has written long-form profiles and narrative features for Vanity Fair, Marie Claire, Town & Country, and other publications. She lives with her family in New Jersey.
Praise For…
---
NEW YORK TIMES BESTSELLER
#1 Must-Read Book of the Summer by Town & Country
Most Anticipated Book of the Summer by Elle

"A well-paced history...Storey has shaken a lot of archival trees and has embedded herself within the surviving Kennedy family...A revealing record."
—New York Times Book Review

"A fascinating narrative...with new details and well-sourced reporting. Storey's research gives the book a more intimate feel than many other histories of the Kennedy family."
—Associated Press

"Journalist Kate Storey turns her sights to Cape Cod in this revealing portrait of the Kennedy family's iconic Hyannis Port home, and the stories its walls have contained over the decades. Constructed from more than a hundred intimate interviews and dozens of photos, White House by the Sea is a thorough, absorbing volume of love, fame and that most complicated of American families."
—Elle magazine

"[A] thoughtful and astute history. Storey has found a genuinely fresh historical angle. With an abundance of anecdotes...a bittersweet nostalgia moves through some of the chapters like a light mist off Nantucket Sound."
—WBUR

"A treasure trove of interesting, amusing, and poignant stories and anecdotes of the dynamic, tightknit, and consequential clan…Appropriately enough, the book makes for great beach reading, as breezy as the summer air off Nantucket Sound."
—Kirkus Reviews

"Engaging and factual, capturing personal nuances and relaying intimate anecdotes that often stand in contrast to predominant, media-created perceptions...Readers will come away with new insights and due appreciation for this uniquely American dynasty."
—Booklist (starred review)

"An immersive behind-the-scenes history…Full of vivid profiles and intriguing asides about the history of Cape Cod, this is a compassionate portrait of America's most famous political dynasty."
—Publishers Weekly

"A resplendent stirring of nostalgia…Cape Cod has never had a book worthy of its romance with the Kennedys, nor have the Kennedys had one that does justice to their courtship with the peninsula they transformed into America's Playground—until now."
—Larry Tye, author of Bobby Kennedy: The Making of a Liberal Icon

"Impeccably researched, Kate Storey's White House by the Sea is an irresistible invitation to spend time with America's First Family over decades of magical summertimes. Captivating!"
—Elin Hilderbrand, author of The Hotel Nantucket