Froggy Builds a Snowman (Hardcover)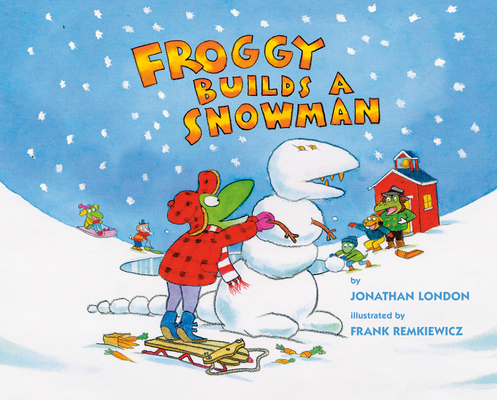 $17.99

usually available in 3-5 business days
Description
---
Froggy has a rollicking good time at his first Winter Carnival!

It's Winter Carnival day, and Froggy can't wait to build a snowman. But school principal Mr. Mugwort says there is a lot to do first. Skating! Sledding! A snow fort! Finally it's time to build a snowman, but Froggy builds a snow dinosaur instead. And of course the day wouldn't be complete without a wild snowball fight.
"That was my best winter carnival ever!" says Froggy.
"That was your only winter carnival ever!" says his friend Max.
About the Author
---
Jonathan London is the creator of more than 20 books about the lovable and enduringly popular character Froggy.  He is also a poet and a novelist. He burst on the children's book scene in 1992 with the publication of three picture books. Since then he has published over 100 picture books, including the Froggy series and the young adult novel Where's Home? Jonathan London started writing poetry in his late teens. Although he received a Masters Degree in Social Sciences and never formally studied literature or creative writing, he began to consider himself a "writer" about the time he graduated from college. After college, he became a dancer in a modern dance company and worked at numerous low-paying jobs as a laborer or counselor. However, during this 20-year period, London continued to write. He wrote poems and short stories for adults, earning next to nothing despite being published in many literary magazines. "It wasn't until I had kids of my own that I became a writer for children," he explains. "It all started with telling them stories when they were very young. I wrote down one of these stories, and it became The Owl Who Became the Moon, my first picture book sale (though it was my fourth to appear in print). Now I am finally making a living as a writer. A dream come true!" Born a "Navy brat" in Brooklyn, New York, London was raised on naval stations throughout the US and Puerto Rico. Today he lives with his wife, Maureen, and their two sons, Aaron and Sean, in rural Northern California, where they like to backpack in the summer, play in the snow in winter, and dance all year around.

Frank Remkiewicz is an award-winning illustrator and author of more than 100 children's books, including the popular Froggy series by Jonathan London. Prior to his career in publishing, he created art for posters and greeting cards. Remkiewicz lives on the Gulf Coast of Florida with his wife, Sylvia Nissley. To learn more, visit remkiewicz.com.