Ella Says: I'm Not Afraid of the Dark! (Hardcover)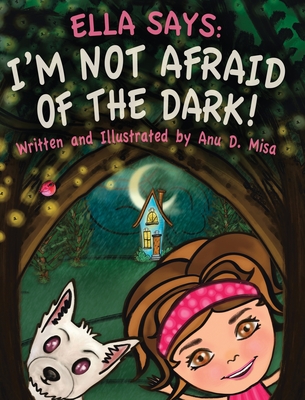 $32.63

usually available in 3-5 business days
(This is a special order book which cannot be returned.)
Description
---
This Royal Dragonfly Award Winner is the first book in the Ella Says adventure series and tells the delightful tale of a brave girl named Ella, who puts aside her fear of the dark to help her best friend, Ollie, and find her way home. Check out the whole series
The weather suddenly changes, and a bright sunny day turns DARK, windy, and rainy Ella and her little dog Ollie, who were playing, become disoriented and LOST in the woods. Ella could no longer tell which direction was North, South, East, or West-none of the compass points. Ella and Ollie also become separated. Ella is AFRAID of the dark and wants to go home to their little blue house, but, first, she must find her best friend, Ollie She BRAVELY makes her way through the dark woods and finds him Once they are reunited, together with many woodland friends, they hatch their plan to find their way home. Their ADVENTURE teaches Ella and Ollie that they can smile and not be afraid of the dark
A picture storybook that delivers an ENTERTAINING tale with stunning illustrations on every page.
FREEBIE surprises available on the author's website
Wonderful way to INSPIRE CHATS about not being afraid of the dark, the importance of managing change, and working together through team work to solve problems.
Great for young readers and as a bedtime story for younger children.