Volando solo / Going Solo (Colección Alfaguara Clásicos) (Paperback)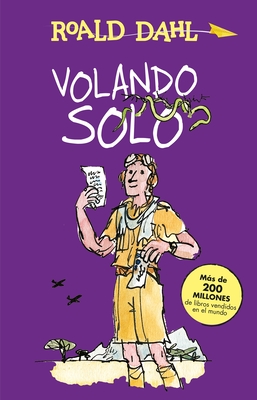 $10.95

usually available in 3-7 days
Description
---
Volando solo es una disparatada historia de Roald Dahl, el gran autor de la literatura infantil.Por Roald Dahl, el gran autor de la literatura infantil y de clásicos como Matilda y Charlie y la fábrica de chocolate.Más de 200 millones de libros vendidos en el mundo.Ilustrado por Quentin Blake.Una vida se compone de un gran número de pequeños sucesos y un pequeño número de grandes sucesos". Por ello Roald Dahl selecciona en este libro los acontecimientos más fascinantes de su etapa de juventud, una etapa marcada por las ansias de aventura: cómo dejó Inglaterra para irse a trabajar a África, sus entrenamientos como piloto, cómo se recuperó de un terrible accidente, los vuelos de combate contra los aviones alemanes durante la Segunda Guerra Mundial, el placer de volar, la camaradería en tiempos difíciles y la exótica belleza de sus viajes por África.

ENGLISH DESCRIPTION

Superb stories, daring deeds, fantastic adventures!Going Solo is the action-packed tale of Roald Dahl's exploits as a World War II pilot. Learn all about his encounters with the enemy, his worldwide travels, the life-threatening injuries he sustained in a plane accident, and the rest of his sometimes bizarre, often unnerving, and always colorful adventures. Told with the same irresistible appeal that has made Roald Dahl one of the world's best-loved writers, Going Solo brings you directly into the action and into the mind of this fascinating man.
About the Author
---
Roald Dahl nació en 1916 en un pueblecito de Gales (Gran Bretaña) llamado Llandaff en el seno de una familia acomodada de origen noruego. A los cuatro años pierde a su padre y a los siete entra por primera vez en contacto con el rígido sistema educativo británico que deja reflejado en algunos de sus libros, por ejemplo, en Matilda y en Boy.

Terminado el Bachillerato y en contra de las recomendaciones de su madre para que cursara estudios universitarios, empieza a trabajar en la compañía multinacional petrolífera Shell, en África. En este continente le sorprende la Segunda Guerra Mundial. Después de un entrenamiento de ocho meses, se convierte en piloto de aviación en la Royal Air Force; fue derribado en combate y tuvo que pasar seis meses hospitalizado.

Después fue destinado a Londres y en Washington empezó a escribir sus aventuras de guerra.

Su entrada en el mundo de la literatura infantil estuvo motivada por los cuentos que narraba a sus cuatro hijos. En 1964 publica su primera obra, Charlie y la fábrica de chocolate. Escribió también guiones para películas; concibió a famosos personajes como los Gremlins, y algunas de sus obras han sido llevadas al cine.

Roald Dahl murió en Oxford, a los 74 años de edad.