80th Birthday Guest Book: Keepsake Gift for Men and Women Turning 80 - Hardback with Cute Pink Roses Themed Decorations & Supplies, Personalized (Hardcover)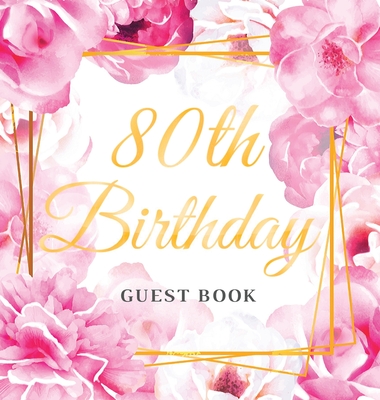 $18.99

usually available in 3-5 business days
Description
---
"80 is a grand milestone Celebrate it in style with our '80th Birthday Guest Book', a keepsake memory journal designed to immortalize this precious moment."
Make your 80th birthday party an unforgettable occasion with our elegant guest book. Its adorable pink roses and gold letters theme adds a touch of class and charm, turning it into a keepsake you will treasure forever
Book Highlights:
Capture the Love: With a total of 120 pages, there's ample room for guests to share their fond memories, advice, and wishes.
Personalized Messages: 105 pages devoted to guest entries, capturing their heartfelt messages and well wishes.
Special Photo Page: A dedicated page to include a memorable photo from the celebration.
Convenient Gift Log: 7 pages designed to record all the gifts, ensuring no gift or gesture goes unnoticed.
Extra Space for Notes & Photos: 5 additional pages for extra notes or photos, because the more memories, the merrier
Charming Design: A hardcover book with a glossy finish and an adorable pink roses and gold letters theme, perfect for an 80th birthday celebration.
Why Choose Our 80th Birthday Guest Book?
Turning 80 is a monumental occasion, and our guest book is designed to match this significance. More than just a sign-in book, it's a treasure chest of love, joy, and heartfelt wishes from your loved ones. The elegant pink roses and gold letters design to add a touch of sophistication, making it a keepsake you'll cherish for years to come.
Make your 80th birthday a memorable celebration with our guest book. Preserve these cherished memories for years to come
Ready to make your 80th birthday celebration truly unforgettable? Click "Add to Cart" and let's make this special milestone a memory to last a lifetime