El Libro de Aurora / Aurora's Book (Paperback)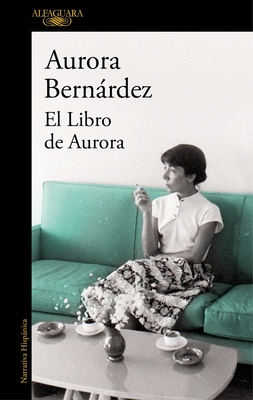 $17.95
Special Order - may be out of print
Description
---
El descubrimiento de una autora a través de sus diarios, narraciones y poemas.La vida de Aurora Bernardez estuvo marcada por la literatura, la musica y el arte, y sus recuerdos resultan fundamentals para profundizar en la época gloriosa de los sesenta y los setenta, asi como en la figura de Julio Cortazar. Pero en sus diarios, narraciones y poemas, publicados por primera vez aqui, se revela también como autora. El volumen recoge, asimismo, la entrevista que le hizo Philippe Fénelon, base de su pelicula documental sobre Cortazar. 

ENGLISH DESCRIPTION

A great discovery of an author through her diaries, her narrative, and her poems.Aurora Bernardez' life was forever marked by literature, music and art, and her memories are key in getting to know in depth about the glorious sixties and seventies, as well as the figure that was Julio Cortazar. In her diaries, writings, and poems, published here for the first time, she makes her literary debut. This book also includes the interview that she gave to Philippe Fenelon, which was the foundation for his documentary about Cortazar.
About the Author
---
Aurora Bernárdez nació en Buenos Aires en 1920. Estudió Filosofía en la UBA y desde muy joven se dedicó a la traducción. En diciembre de 1952 viajó a París, donde se casó con Julio Cortázar, a quien había conocido en Buenos Aires en 1948, y allí vivió a partir de entonces. Durante largos años trabajó como traductora en la UNESCO -tanto en la sede de París como en numerosas conferencias internacionales-, y de obras literarias de importantes autores, como Gustave Flaubert, Paul Valéry, François Mauriac, Jean Cocteau, Henri Michaux, Jean-Paul Sartre, Albert Camus, Jean Anouilh, Italo Calvino, William Faulkner, Paul Bowles, Lawrence Durrell, J.D. Salinger, Ray Bradbury, Gore Vidal, etc. A partir de 1968, año de la separación de la pareja, ella siguió su propia vida independiente, entre París, Buenos Aires y Mallorca, aunque siempre permaneció cercana al escritor, a quien asistió durante los últimos meses de su vida, cuando la nombró su albacea literaria y heredera universal. En esas funciones, a partir de 1984 se ocupó de la obra inédita, compiló la correspondencia, organizó el archivo fotográfico y supervisó ediciones y adaptaciones. Es autora de poemas, relatos y crónicas, muchos de los cuales se ofrecen en este libro. Murió en París en 2014.