Are You Thinking of Buying Land for Your New Construction Dream Home? (Paperback)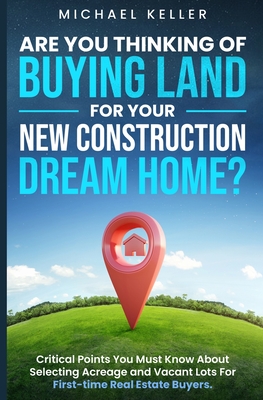 $20.99

usually available in 3-5 business days
Description
---
Do you want to buy the perfect land but have zero experience? Finding the best land for your dream home is easier than ever - discover the ropes of purchasing land with minimal troubles.
Are you on a hunt to buy a piece of land to construct your dream home on?
Is your inexperience in real estate making you nervous about moving forward with your plan?
Are the stories of pesky neighbors and tight legalities eating away at your confidence?
If yes, then you have come to the right place - this is your golden chance to chase away your doubts and work towards your dream.
Real estate investing is not easy and caters to a buffet of challenges that can make anyone want to rip their hair out.
The thought of running after real estate agents and dealing with scammers can ruin your peace.
But that doesn't mean you have to give up on your dream home
Whether you're a veteran property owner or just starting out, here you'll uncover the real estate expertise you need to select the finest land for your new home.
The only catch is that you need to be consistent, follow some rules, and make the right decisions at the right time
In Buying Land for Your New Construction Dream Home, you'll discover:
A quick overview of the most important considerations to make when shortlisting land for your dream home
Crucial questions you should ask landowners to make sure you have a transparent deal
How you can ensure a clean land title - including the steps to register your land for a worry-free transaction
Zoning and property deed restrictions - what are they and how they can affect the present and future value of your land
The top 7 alternatives to a regular septic system - and how you can equip for them on your land
The deed restrictions that can ruin your dream of building your new house - and how to steer clear of them
And so much more
There is no secret tactic or recipe that can help you get your hands on the best land for your dream home.
It's all about patience and persistence - the key elements for achieving success in anything.
With the right guidance and knowledge to leverage the tools at your disposal, finding the perfect piece of land will become a walk in the park.
Plus, if you plan well and put a leash on your emotions, you can certainly make a good move.
You don't have to doubt everything - the more you think, the less you act
Discover how to strike gold on your next land purchase and build your dream home.