Hunter S. Thompson's Little Book of Selected Quotes: on Life, America, and Adventure (Paperback)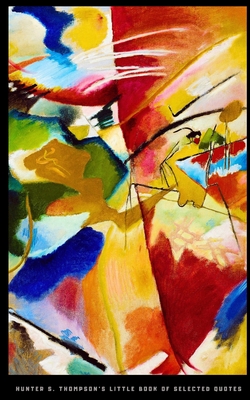 $7.99

usually available in 3-5 business days
(This is a special order book which cannot be returned.)
Description
---
Life should not be a journey to the grave with the intention of arriving safely in a pretty and well preserved body, but rather to skid in broadside in a cloud of smoke, thoroughly used up, totally worn out, and loudly proclaiming "Wow What a Ride " Hunter S. Thompson
Discover the wisdom and inspiration of Hunter S. Thompson's quotes, conveniently compiled for you to read anytime.
Ideal for reading at your leisure, for drawing inspiration, or sparking ideas of your own.
Looking for a thoughtful, unique gift for someone special? With its beautiful design and timeless wisdom, it's the gift that will be treasured for years to come.
--
"There is something fresh and crisp about the first hours of a Caribbean day, a happy anticipation that something is about to happen, maybe just up the street or around the next corner."
Hunter S. Thompson
--
"Walk tall, kick ass, learn to speak Arabic, love music and never forget you come from a long line of truth seekers, lovers and warriors."
Hunter S. Thompson