Woodburning: Beginner + Intermediate Guide to Woodburning: Woodburning and Pyrography Compendium: How to Start Drawing With Fire Us (Paperback)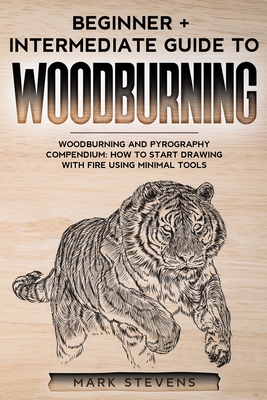 $29.99

usually available in 3-5 business days
(This is a special order book which cannot be returned.)
Description
---
A powerful way to start drawing with fire
Are you mesmerized by the idea of drawing with fire? Do you want to master woodburning? Are you frustrated with vague online tutorials?
Do you have a grand vision in your mind, but your drawing skills and tools let you down?
This book teaches you all the technical skills for stellar woodburning
Whether you're a beginner who still can't transfer a pattern or an intermediate who wants to fill in the gaps in knowledge, this is the guide for you.
Master the right tools and use thereof.
Avoid waste, choose the right wood, and apply simple beginner skills to create your first masterpieces.
Note: This book has two parts:
Part 1:
Woodburning for Beginners: Learn the Secrets of Drawing With Fire With Minimal Tools
Part 2:
Intermediate Guide to Woodburning: The Secrets of Shading and Texturing Every Pyrography Artist Should Know + 9 Woodburning Projects
Unveil all the pyrography tips and tricks that professionals won't tell you
With this pyrography step-by-step guide, none of your questions are left unanswered Learn the exact moves to achieve realistic textures, shades, and dimensions on your woodwork with simple and useful tips that you'll know how to apply.
Inside
Beginner + Intermediate Guide to Woodburning
, you'll discover:
The best kept secrets of easy pyrography
What right woodburning tools and materials to buy without spending more than your budget
How to avoid toxicity, fumes, and other health concerns by matching burners with the right wood
How to create your first art pieces RIGHT NOW
How to safely use woodburning tools and create custom tools LIKE A PRO to make your artwork stand out even more
Why creating vivid, realistic shapes and textures is a breeze if you do it the right way
How burning straight and curved lines; add calligraphy, shading, and waves can be carefree and fun
The secrets of advanced pyrography nibs, which will help improve your woodburning patterns
Expert tips and tricks
for masterful shading and texturing in your work
How to
integrate color
into your woodburning, and how it will help take your artwork to the next level
Expert step-by-step tips to
decorate your own tools
, such as spatulas, cutting boards, and spoons
How to make
amazing portraits
through woodburning
And so much more Your beginner skills will be enough to apply an abundance of techniques, from clean Lichtenberg Figures on plywood to eye-pleasing Mandala patterns
All you need is wood and a simple woodburning kit to discover this simple, yet wonderful, art.
And if you're sick and tired of picking up a book only to learn a small portion of what you were hoping to, then you're in for a treat
This book comprehensively covers all of the essential aspects of woodburning
So, what are you waiting for? Don't waste time, wood, and money on failed projects and futile YouTube tutorials. Time is running out Click "Add to Cart" Each moment that passes is a loss for your skills, creativity, and wallet. With fun, simple, and useful instructions just around the corner, get this book now.