Manipulation - 6 books in 1: Dark Psychology, How to Analyze People, Influence People, Emotional Intelligence, Narcissist, Empath Master the Latest (Paperback)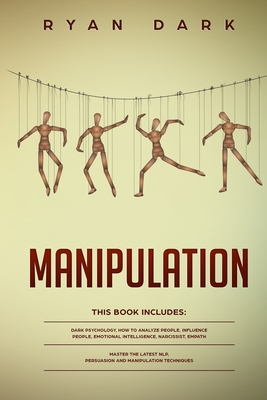 $25.99
usually available in 5-10 days
(This is a special order book which cannot be returned.)
Description
---
6 Great Books in 1
This exclusive box set includes the latest NLP, mind control, dark psychology, behavior modification, persuasion and manipulation techniques that will help you manipulate and ethically influence people.
It will teach you the fundamentals of human behavior psychology and quickly lead you to understand how to ethically make people do exactly what you want, when you want it and how you want.
This book set includes:
Book 1) Dark Psychology: 101 Secrets to Protect Yourself from Manipulation and Ethically Influence People by using the Most Updated nlp Techniques, Mind Control and Persuasion
Book 2) Emotional Intelligence: Science and Practice of EQ to Leading Change, Influence People, Develop your Leadership, and Build Strong Relationships
Book 3) Empath: A Survival Guide for Sensitive People who Want to Protect Themselves from Manipulation, Narcissists and Mind Control Refusing to Absorb Negative Energy
Book 4) How to Analyze People: Understand Body Language, Personality Types and Use Manipulation Techniques and Persuasion to Ethically Influence People
Book 5) Influence People: The Most Updated Tools and Techniques to Persuade People and Win New Friends in the Digital Age, even Without Authority
Book 6) Narcissists: Understanding the Hidden Game of Emotional Manipulation, Recognize and Avoid Toxic Relationships and Healing Yourself after Psychological Abuse
If you want to discover the hidden secrets of Dark Psychology to ethically manipulate and influence people, unlock the hidden power of your emotional intelligence to win in life and succeed at work, and understand the body language of people to know what they are saying and what they really mean, then this extraordinary box set is for you
Click the BUY NOW button at the top right of this page.