Solar Power: The Beginner's guide for solar electricity systems, for off-grid solar systems and for your home energy independence (Paperback)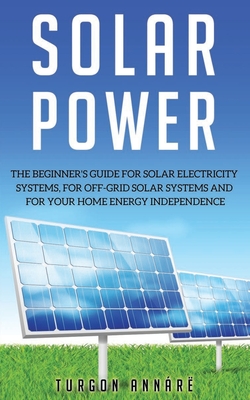 $14.95

usually available in 3-5 business days
(This is a special order book which cannot be returned.)
Description
---
Ever wanted to save on electricity bills and without being dependent on energy? Want to protect your family from regular power outages and the negligence of local utilities?
Your desire may be to get your energy bill lowered or be independent of the payment all together. Then Solar energy is the answer to all your expensive energy consumption.
Solar power is the most abundant of all renewable resources available. It is essentially a source of achieving safe energy for household. It takes free power from the sun and uses it to power electrical equipment.
More importantly, solar power does not harm the earth. Of course, it's not that simple. But solar power alone is a powerful resource with applications and benefits around the world.
This book, SOLAR POWER: The best guide for solar electricity systems, for off-grid solar systems and for your home energy independence, it helps you achieve this by understanding the basics of solar components and using solar power.
This easy-to-read solar component guide, written to explains all components of a photovoltaic system in a way that is easy for anyone with no technical background to understand.
Based on a thousand hours of research and experience, the book contains practical solar information that cannot be found and applied by searching the web alone.
This book shades lights in the following ways:
How to know what solar power system to buy
How to avoid the common mistakes, tricks and traps that salesmen will try to feed you
How to size your solar power system so it will fit perfectly on your roof
A step to step guide to installing your solar power systems and panels
How to determine how many watts your house needs
How solar power/panel works
This book is useful to a wide range of readers, including technical and non-technical people, beginners and advanced solar power professionals, and engineering experts.
This bestselling book answers all these questions and shows you how to use the power of the sun to generate electricity yourself.
This amazing step to step guide on solar energy book is a practical and straightforward guide to using photovoltaic solar panels and all you will need to get it installed.
Read this amazing book to discover all about solar energy, its benefit and how to get it working for you.