Dinosaur And Volcano Coloring Book: best Coloring Book for Boys, Girls, Toddlers, Preschoolers, Kids (Dinosaur and volcano Books) (Paperback)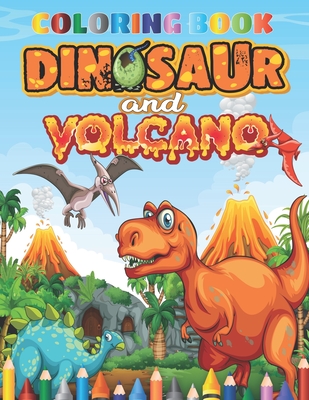 $5.99

Special Order - may be out of print
(This is a special order book which cannot be returned.)
Description
---
THE DINOSAUR AND VOLCANO COLORING BOOK IS THE BEST GIFTS FOR CHILDREN WHO LOVESDINOSAURS... THIS GIFTS WILL MAKE YOUR CHILDREN HAVE MUCH FAN JUST LESS THAN(10$)
ORDER NOW TO SEE WHAT ALL PAGES AREABOUT...
Without a doubt to bring joy to your loved ones is a good sign for what a kind ofperson you are alike, everyone should also show their intimacy and tenderness to his dearest people. One ofthe best ways to accomplish this is by sharing funny and amusing presents with those you love to share yourhappiness with. This stunning coloring page is a perfect example of what we are talkingabout.
DISCOVER 60 AMAZING COLORING PAGES WITH RELAXING CUTEDINOSAUR AND VOLCANO COLORING BOOK ... this collection is your ultimate ticket to the world ofrelaxation and natural coloring enjoyment...
Surprise that special someone in your life and make himsmile. Buy two copies and enjoy coloring together.
Cannot wait to start coloring Alternatively, areyou looking for a way to relieve anxiety and stress Then you have the most delightful collection of coloringpages that you deserve which feature all kinds of different scenes about marvelous dinosaurs that will drivesyou to swam in the valley of miracles for a ton fraction of hours . So buying this book will gets you from your head a while.
Buy now to discover these four incredible coloring bookstoday
★★★★★Why You Will Love thisBook ★★★★★
✔Relaxing Coloring Pages. Every page youcolor will pull you into a relaxing world where your responsibilities will seem to fadeaway...
✔Beautiful Illustrations. We have included more than28 unique images for you to express your creativity and make masterpieces. Which colors will you choose forthis book?
✔Single-sided Pages. Every image is placed on itsown black-backed page to reduce the bleed-through problem found in other coloringbooks.
✔Great for All Skill Levels. You can color every pagehowever, you want and there is no wrong way to color (even if you are abeginner).
★★★★★FEATURES ★★★★★
(DISCOVERWHAT MAKE THIS COLORING BOOK DIFFERENT FROM OTHERS)
① Printedsingle sided on bright white paper
② Perfect for all coloringmediums
③ High quality paper
④ Large Sizeformat 8.5" x 11.0" pages
Buy Now & Relax...