City Skylines in China Coloring Book for Adults (Paperback)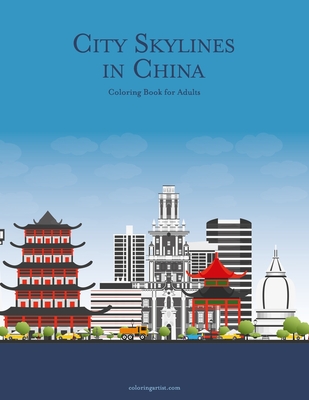 $6.95

usually available in 3-7 days
(This is a special order book which cannot be returned.)
Description
---
Unwind and boost your mood with this beautiful coloring book with beautifully drawn cityscapes of cities in the People's Republic of China.
City Skylines in China Coloring Book for Adults contains 20 coloring pages with skylines from cities in the People's Republic of China. All images are in exactly the same style as the cover. The following Chinese cities are featured:
Wuhan
Chongqing
Guangzhou
Beijing
Dongguan
Shenyang
Tianjin
Chengdu
Harbin
Macau
Foshan
Hangzhou
Shenzhen
Xi'an
Hong Kong
Zhengzhou
Shanghai
Nanjing
Shantou
Ningbo
Use your favorite colors and art supplies to create personal masterpieces while you relax in comfort. Like all our coloring books, these designs are carefully crafted to unleash your inner coloring artist.
Highly personal gift for someone who loves China.
Single-sided printing keeps all your work pristine.
Hours of relaxation and fun.
Accessible and fun for every skill level.
Adults and teens who color add relaxation, beauty, and joy to their lives.
Experience improved focus and attention to detail.
Replace negative thoughts with positive ones.
Reduce stress and anxiety with the mindfulness of coloring.
Get better sleep when you color before bed.
Ready to experience these benefits for yourself or give them to someone special?
Click Add to Cart at the top of this page.
Learn more and see our entire collection of coloring books at www.coloringartist.com or contact us at info@coloringartist.com. If you enjoy your book, please return to this page and leave a positive review to help us reach more people like you.