Cricut Maker: 4 Books in 1: Cricut For Beginners, Design Space & Project Ideas + Accessories And Materials. A Complete Guide To Mast (Paperback)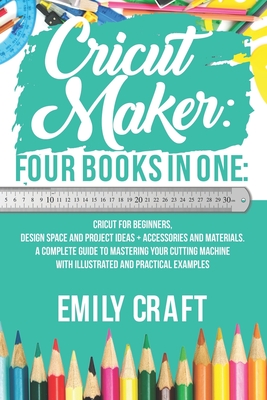 $22.99

usually available in 3-7 days
(This is a special order book which cannot be returned.)
Description
---
Are you one of those people who like to turn your ideas into reality?
Do you like to create and realize your own ideas?
Do you want to grow your imagination and get the best results from what you create?
If you answered yes to even one of these questions, this bundle is for you.
After reading the books in this bundle, you will be able to realize all your projects, even if you have no experience in Cricut.
READ Cricut Maker: 4 Books in 1: Cricut for Beginners, Design Space, and Project Ideas + Accessories and Materials. A Complete Guide to Mastering Your Cutting Machine With Illustrated and Practical Examples
We are all passionate about crafting, but every day we are looking for something that can stimulate us towards ever higher challenges.
Cricut is the ideal resource when we talk about the accessories, materials, and machines required for the best levels of crafting. Did you know that it's often considered the best among every other accessible type of machinery?
Using a personal Cricut machine will allow you to iron-on not only clothes but on the wood, too On top of that, it has recently launched EasyPress that is considered a very convenient product. A big array of items is accessible on their official website, helping aficionados to create their personalized clothes and accessories.
The goal of the books in the bundle is to be your one-stop guide to know more about Cricut, the type of Cricut models, the configuration of design spaces, the function keys, and a lot more
You will also learn:
✅ Types Of Cricut Machines
✅ Maintaining The Machine
✅ Introduction to Cricut Design Space
✅ Projects Ideas for Any Level of Experience
✅ What Accessories to Use
✅ Which Materials To Use the Cricut Cutting Machine On
✅ How To Make Money
...And Much More❗
Now, if you are a DIY lover or a craftsman, then this bundle is the ideal option for you. Scroll up and click BUY NOW to get started towards this wonderful crafting experience