Crisis and Chaos: Lessons from the Front Lines of the War Against COVID-19 (Hardcover)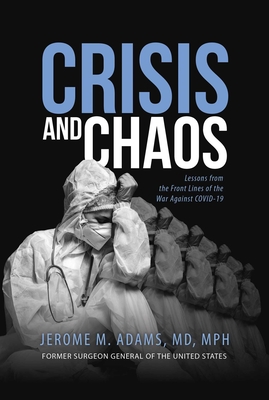 $28.99

Coming Soon - Available for Pre-Order Now
Description
---
Hard truths and surprising insights about our COVID-19 response from America's former top doctor.

When COVID-19 began spreading rapidly, the world was taken by surprise. As the ensuing pandemic raged, we faced one constant—a lack of consistent, scientifically sound, and trusted information about dangers, risks, and mitigation strategies that the average person could understand and put into practice to keep themselves and their families safe.

Politicians, opportunists, and agenda-driven media personalities spread misinformation for an array of purposes, leaving most of the public scratching their heads, wondering what was true and what wasn't. Now, the former Surgeon General of the United States—freed from the many constraints he worked under in public office—reveals critical lessons learned from both mistakes and successes overlooked during the pandemic. He explains what we need to know to create a safer environment for individuals, families, and communities, how we can respond better to the next threat, why we keep making the same mistakes, and why we must promote health equity for all.

As Dr. Adams explains, the best public health policies are the ones that begin at home and come about as people in local communities work together to find solutions that fit their specific priorities and needs. Only through this bottom-up, community-driven approach will we be able to turn down the volume on the distracting noise, finally make our way out of and recover from a once-in-a-century pandemic, and prepare ourselves for inevitable future health crises.
About the Author
---
As an inner-city trauma physician, a state health commissioner, and the 20th US Surgeon General, Dr. Jerome Adams has been at the forefront of America's most pressing health challenges.

Just the second black male Surgeon General, Adams led the 6,000-person US Public Health Service through responses to three category 5 hurricanes, a raging opioid epidemic, and a once-in-a-century pandemic. As health commissioner, Adams led Indiana through Ebola, Zika, and HIV crises and worked with governor Mike Pence and an ultra-conservative state legislature to legalize syringe service programs.

Dr. Adams is a Distinguished Professor and Director of Health Equity at Purdue University. He also teaches anesthesiology at Indiana University School of Medicine and is a medical correspondent for WISH-TV. He is married to Lacey, who has recently and publicly spoken of her battle with metastatic melanoma, and is the father of three school-age children, Caden, Eli, and Millie. Dr. Adams' family also includes their two dogs, Bella and Ruby.