Operação Vovó: Um Plano Cheio de Amor (Large Print / Paperback)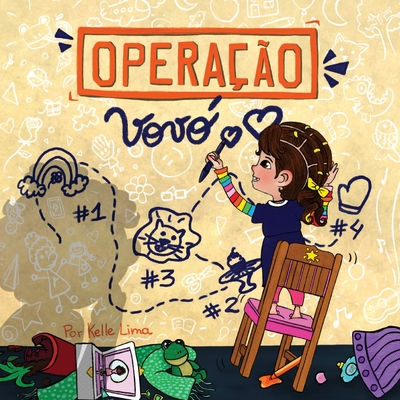 $12.99

usually available in 3-5 business days
(This is a special order book which cannot be returned.)
Description
---
Brazilian Portuguese Translation / Tradu o em Portugu's do Brasil:
Juju tem uma miss o muito especial Ela quer que a senhora Rosa vire sua vov apesar de n o serem parentes de sangue. Essa pequenina est pronta para mostrar ao mundo que para ser uma fam lia n's s precisamos estar conectados em nossos cora es. pronto para gargalhar junto com essa sapeca?
N o precisamos ser parentes de sangue para ter o v nculo mais especial
O que um parente do cora o?
's vezes, nossos cora es's o t o grandes que amamos algu m como se fosse parte da nossa fam lia. Talvez voc ame seus melhores amigos como irm os, como se fossem seus irm os do cora o. Voc tem um adulto muito importante que voc ama tanto quanto uma tia, que seria sua tia do cora o?
Eu cresci com algu m t o especial para mim que a chamei de "m e do cora o" (e sim, eu tamb m tenho uma m e biol gica que amo de mont o, ent o tive duas m es ).
This Book is the Brazilian Portuguese Edition of Operation Nana: A Plan Full Of Love
Description in English:
Juju has a very special mission. She's determined to make Miss Rose her nana even though they aren't connected by blood. This little girl is ready to show the world that to be part of a family, we only need to be connected by our hearts.
Ready? Set. LAUGH & LOVE
Being blood related is not the dictator of becoming family as you probably know Juju's fun-loving demeanor is the most na ve and cutest thing as she tries to express how much she loves and cares for Miss Rose. We can be related by blood, adopted, or even just love someone so much that they just become related to us in our hearts.
Family is who you love, no matter what
Operation Nana: A Plan Full of Love (English Edition) will be available in multiple languages and formats and it's coming out on August 29, 2022
Cute and free coloring pages can be found at: bit.ly/writerverse
Children's picture book in English: best for kids ages 3+.
------------------------
⭐ FINE PRINT⭐
------------------------
- Terms of Use: Personal use only. These files cannot be resold, shared, transferred or redistributed All rights reserved (c) 2022 Writerverse Journey LLC.
Please don't hesitate to contact me if you have any questions. I'm glad to assist you if needed
-------------------------------------------------------
⭐ OTHER BOOKS YOU'LL LOVE ⭐
-------------------------------------------------------
http: //author.to/kellelima
Thank you for letting me be a part of your journey If you would like to receive free learning resources, deals, and offers, subscribe to my newsletter at: http: //writerversejourney.wixsite.com/author
And feel free to connect with me on Instagram/TikTok: @writerverse_journey or Facebook: @writerversejourney